Personal Online Fitness Coach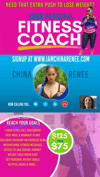 Sign up today to schedule your one-on-one, personalized online fitness coaching with fitness enthusiast, and YoutTube guru, China Renee! Your coaching will include a 1 hour video call, to discuss your health, diet, and personal fitness goals. There are exclusive meal and workout plans that will be custmized to your needs, motivational follow ups, and so much more! The best part is, this can all be done from the privacy of your own home. If you are ready to invest in your well being, START TODAY!
You will be contacted within 24 hours, via email to schedule your one on one session.